Having been told that we would in all probability be unable to get a booking for 2016 in Las Salinas, several of my usual group decided to have one last trip.  The reason for Las Salinas being unavailable is that a new outfit is to take the place over and put in swish new boats and charge four or five times as much as we currently pay, oh, and make you stay in the hotel in Playa Larga…no thank you!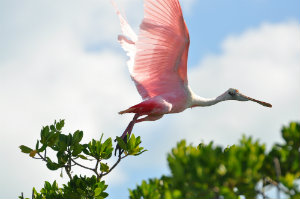 So, Simon, Mike, Matthew and Brett (first timer) signed up for the trip.  I must say that it was one of our best for many reasons.  Primarily, the water was as high as any previous trip – the first few days it was actually washing right over the track to the boats.  Secondly, the group really seemed to gel, and that makes for a happy time, and finally the fishing was good.
Our old friends were there – Julio, Manolo, Roberto, Adisbel, Juan-Carlos, Lazaro and we met up with Felipe, though as his wife is ill he didn't guide us on this trip.  WE got to fish in the mangroves a lot more than usual as the water was so high.  This really does make for great fishing!  I love the real sense of hunting as you pole around the shrubs and have to look in all directions.  The fish really can be and are all over the place.  Then, if you manage to hook-up you have that odd playing of the fish that run off through the mangroves…of letting them run with the clutch off the reel.  This is to prevent the fish just turning round and round one stem and so straightening the hook.  This still happened a couple of times, but by and large, if you manage to go against instinct and let the line go slack you will usually land the fish.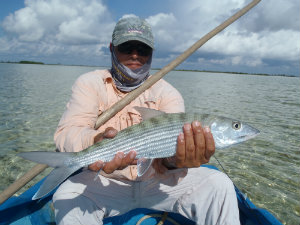 I had a couple of great days, several modest days and one day – the last, which I spent with Julio, when I really could not get a fish to take the fly.  In fact, I think I spooked more fish that day than in all of the years I have fished at Las Salinas.  Sure, we were in shallow water, but I think I generally like that challenge.  I could not fault Julio for his efforts.  But, it was incredibly bright and really quite calm ion the mangroves and the fish were just soooo spooky!  I landed only two, but can honestly say that I had a brilliant day.
Brett had a whale of a time – as I knew he would.  I wish I had tried to talk him into a trip years ago!  Matthew was up to the challenge again and "worried" many a cervesa and plenty of ron!, and also troubled the local hospital when he sliced his toe open on a dodgy screw as he fell – or "slipped" down the stairs one night.  Mike was more at ease than any previous trip and so, I believe caught more than ever.  Sadly, his one great day on the river was spoiled by using a spool of eighty pound nylon that I gave him (I had been given it by Felipe last trip) as he hooked about nine or ten fish and only landed a couple!  He even had the brand new fly line break on one fish.  Quite a day to remember for the wrong reasons.  Simon as ever caught plenty and a decent variety of species – I think he won that challenge easily!
But, I have managed to book for one more trip.  I head off with a group in April, though I am going to get a couple of weeks looking further round the island with my wife prior to the fishing party arriving. Unfortunately we will not be fishing Salinas but at Cayo Coco.  So we will have a new challenge!