About Martin Cottis
---
Profile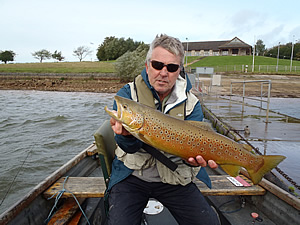 There are few anglers in England who can match Martin's expertise on Chew Valley and Blagdon Lakes. He is an undisputed expert and renowned throughout the country for his dry-fly fishing skills.
Martin has an unmatched record of having won the B.R.F.F.A. (Bristol Reservoirs Fly Fishers' Association) Orvis competition no less than four times, and has also won all of their other domestic competitions. He has represented England at Loch Style Home International level and fished for the Bristol Reservoirs Fly Fishers Association team, who are undoubtedly the most successful outfit in British competition fly fishing for over twenty years. With the team, Martin won two Benson and Hedges Gold Medals, one Silver Medal and several bronzes. He was also in the Wychwood Team Challenge winning side of 1995 and was a member of the team that won the Welsh Water Championships in 1995 and 1996.
Biography
My fishing career started very early, when I accompanied my father, a keen coarse angler, on regular trips to the River Thames, Tring Reservoirs and the Hampshire Avon. As an enthusiastic bird watcher and insect collector (I daren't say entomologist!) I soon realised that fishing was a great way of following all of these interests and it was not long before I was venturing out by myself or with a couple of school friends to the numerous gravel pits in the area, on the edge of London, where I grew up. As our fishing progressed, we ventured further, the River Mole being a particular favourite bike ride (over fifteen miles from home, but worth it as there was something special about our club stretch!)
Soon we were booking trips to Ireland, and on one such visit, I was introduced to the gentle art of fly-fishing. Within twenty minutes of starting this strange new technique, I was fortunate enough to have a sea-trout grab my fly and show me what I had been missing for the first thirteen years of my life! I progressed – if that is the word, to the reservoirs around London – Barn Elms, Kempton Park (my particular favourite in the early days, and handily convenient for me at only a mile and a half from my house), and later on the Queen Mother. I was at college in Kent when Bewl Bridge reservoir opened, and it wasn't long before I started to fish the amazing sedge hatch-evening rises on a regular basis.
Having qualified as a teacher, I moved on to Wiltshire, where I was very lucky to get the exclusive use of a small stretch of Upper Avon, and I spent many happy seasons watching, fishing and enjoying the river and its occupants. Work moved me on to Bristol, and my love affair with the Bristol reservoirs began – such quality fish, so free-rising, so hard fighting! But a challenge to catch when they were high in the water as evening set in!
I had the opportunity to realise a dream in 1998, and took a teaching post in New Zealand. I worked in a small town on the South Island, and had the most amazing fishing year of my life! Trout to over fifteen pounds from the rivers (mostly on dry-fly), polaroiding the gin clear shallows of the lakes, eels to twenty pounds plus from almost any river, amazing variety of sea fish on flies (including escapee Atlantic salmon!). It's a wonder that I actually came back to England!
On my return, in 1999, I took my Salmon and Trout Association national certificate in trout fishing and casting instruction, and in fly tying. I left teaching and set up as an instructor/guide on my local waters. I have a fantastic 'office' in Chew Valley and Blagdon lakes, and consider myself a lucky person to have such a job.
I fish the local river for chub and pike and many a Sunday evening as dusk approaches, you will find me with great hunks of cheese paste out in expectation!
I now fish the river Usk early season rather than the lakes as the insect hatches seem to start much sooner.  I reluctantly guide on the rivers as I enjoy the change of setting so much, but, I can be persuaded!
I have travelled to fish in the past six years and regularly visit Cuba, Spain and Ireland.  I am hoping to add Venezuela to that list shortly.
Useful Links
www.Orvis.co.uk
www.bvg-airflo.co.uk
Louise Meana -Spanish Guide
www.theredghost.com
www.cotossalmoneros.com
Copyright © Martin Cottis