July – the month of strong winds!
Just past the middle of July and the wind has been relentless.  I cancelled my client yesterday, BRFFA have decided that it would be in everyone's interest to cancel tomorrow's "Troutwatch" Hidden Teams event, and I am about to phone Monday's client to cancel that trip.  Tomorrow and Monday we have winds forecast at over 25 mph, which from the south is pretty hopeless on Chew.
Annoyingly the week before last was my best of the season with clients doing great things: Jonathan Howitt took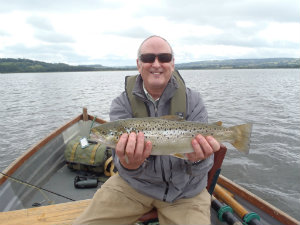 twelve trout on dries on the Tuesday – returning a brown trout of 4lbs 9oz (pictured right) and three of his rainbows, yet still weighed in over 25lbs of fish.  Marc (pictured below) had six fantastic fish in a half day session on the Monday, and then on the Friday Ken Pascoe and his son John took fifteen trout throughout the day. Ken just couldn't manage that eighth fish to complete a "limit" for the first time, in spite of rising around twelve fish, hooking and losing another and smashing on a big fish…all after landing his seventh!  On Thursday Laurence had three fish on the only tough day of that week and I had Wednesday at Blagdon.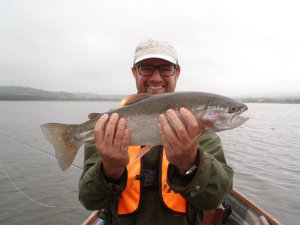 The Blagdon day was for the Yeo Valley Organic food company.  They hosted a "catch and cook" day, and I had to organise 23 ghillies to look after many first time anglers.  The day was a relative success, with about 45 fish being caught in the short time that the guests fished – three hours at the outside.  I had two journalists along with me -Martin and Andy, both directors of the S.W. News Service. Andy fishes a bit in Ireland and soon hooked a fish, but, it came off. Then Martin, who had never caught a fish in his life hooked a decent fish on a dry fly and played (expertly) and landed a brown trout of exactly 4lbs 8oz (pictured below).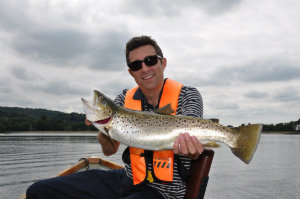 Some fish to take as your first ever! Andy then caught two rainbows and lost another three.  Had he managed to land one of those fish he and Martin would have been top pairing!
I'm off to Rutland for a change of scenery next week, though the way that Chew and Blagdon are fishing it is hard to drag myself away!