Cuba
---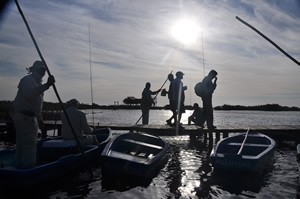 Yearly in March or April, Martin takes groups of anglers to Cuba.  The fishing is perfect for the trout angler who wants a bit more of a challenge.  When trying to catch bonefish, eyesight, casting skills and the ability to stay calm are all of importance.  No casts are made fishing blind.  The angler stands in the bows scanning the water in front looking for a sign of movement that indicates a bonefish or a school of bonefish is approaching.  Often the guide will give the angler plenty of notice so that the line can be aerialised and the fly put into the path of the fish.  The cast is made, the fly retrieved and if you are lucky or skilful enough to get a hook-up prepare for a run to remember! On average Martin's group catch between six and ten fish a day, though just last trip Andrew Barker had an amazing day on which he landed 24 bonefish!
Some days are spent on the River Hatiguanico fishing for tarpon.  Generally the tarpon are classed as "baby" fish.  They average around fifteen pounds!  However, each year fish of thirty pounds are caught and in 2014 both Paul Crook and Simon Hodges managed to catch tarpon over 70lbs.  The fishing is brutal – don't think light tackle here.  A ten weight is about as light as you dare fish and the rubbing leader needs to be either 80 or 100lb material.  Fast sinking lines are required to get the large fly down to the tarpon's depth quickly and casting can be tricky as the fish generally "hold up" in the mangroves close to the banks of the river.
Snook are also encountered both on the river and on the flats and during the period of fishing it is quite likely that these will be caught.  Barracuda have been much more evident in the last two years on the flats.  Some very large fish have been targeted by the groups.  This year (2015) four of the group caught barriers in excess of ten pounds on fly tackle, whilst last year Martin caught one over 25lbs.  That fish ran well over two hundred metres across the flats, jumping several times.
This venue has some permit but they are not often encountered.  Shark, like barracuda are also becoming more common on the flats and these too present an interesting distraction whilst fishing for bonefish.  Though they don't fight as dynamically as barracuda.
You are also likely to catch a variety of jacks and snapper.  Both these species give an incredible account of themselves.  Many anglers believe that of the fish that we encounter in Cuba it is probably the jack that fights hardest pound for pound.  In February this year James Grieve caught a jack crevalle of around twenty pounds on his eight weight bonefish rod.  It took him about an hour, and a lot of poling by his guide before he managed to land that fish!
Copyright © Martin Cottis