3rd September Kev and I arrived at Bristol Airport for our long trek to Helena, Montana.  Things didn't start too well when the KLM flight was announced as being delayed.  Things worsened as the delay became longer, but eventually there we were, boarding.  Unfortunately, the stewardess told us that we were going to miss our flight to Minneapolis and told us what we should do when we reached Skiphol.
There was no alternative flight and the best KLM could do was put us on a flight the following day – to Salt lake City, where we would catch our connecting flight.  We were given vouchers for a night in an hotel nearby and also for a meal.  We took our time, had the inevitable Heineken and went to catch the bus.  The hotel was pretty modern, but soul-less.  There was no alternative.  So, a wasted day to start our fishing trip!
Next morning early we caught the bus back to the airport and had a basic breakfast with the vouchers given us (they barely covered even a simple bacon roll with coffee!), and checked in.  A quick trip to Duty free and then on to our flight.  That all went well enough and in rather a long time, we were at Salt lake City.  Boy is the lake large – and salty!  It appeared to be pure white as far as you could see.
The lay-over was not too bad, but made pretty memorable by Kev having his splendid bottle of gin taken from him at the customs post before boarding due to the bottle not being clear glass!  That was thirty odd quid not so well spent!  We caught our flight to Helena.  On this leg of the journey we were a bit worried to see a couple of wild fires down below, remembering that two years ago many areas were unfishable due to these wild fires.  But, the whole trip proved pretty free of fires, so we had no need to be worried.
Doug and Tracy were there at Helena awaiting our arrival, and soon we were being made welcome at their lovely house in Helena.  Gin and tonics in hands, and a lovely meal were such a welcome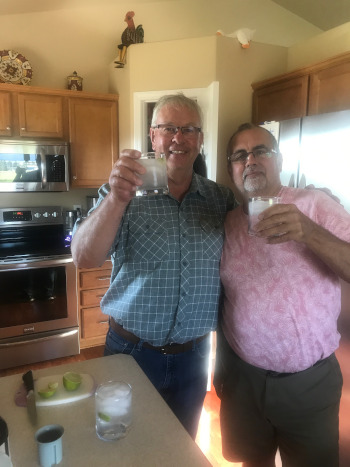 So, a day later than we hoped, we set off into Helena to buy our licences, pop into the local Orvis store and stock up on all that we needed for our road trip.  Not much in the way of groceries was required as Doug and Tracy had sorted that well in advance of our arrival.  Later that day we hit the road, and first stop to set up camp was Aspen Ground Campsite.  This was a basic site, really cheap as the only facilities were toilet blocks, but that suited us.  Camp set, we headed onto the river….  This was the big attraction, the site was right next to the Blackfoot river.
Kev and Doug headed upstream, I went downstream.  First access point, and the river here was clear, fairly fast and small, there was a pretty obvious lie on the opposite bank, small bush overlapping the water, slowed current, so, with my Mladen Sedge, first cast produced a flash, but no take – maybe  bit of drag!  Next cast, with an upstream mend, and there he was, first fish of the trip – a Westslope Cutthroat.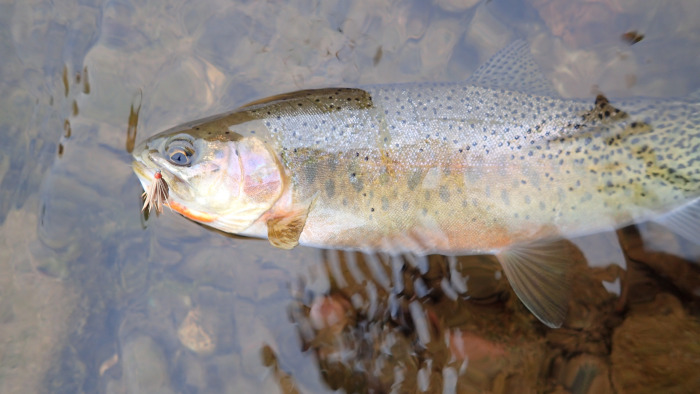 Feisty little fellow!  I carried on down and had a lovely short session with one memorably large fish – almost twenty inches, which took one long time to land, this fish took the Opti.  Another pool held a good number of fish, where I caught first on a dry then I had to resort to a bead-head to get down to them.  I managed two or three from this deep pool.
I guess I fished about two hours before thinking I ought to get back to see how the other two had coped – we were only having  quick look after all.  I arrived at the site to find the pair sitting in camp seats….fast asleep.  Fished out after just one short session.  They'd actually seen nothing (apart from fresh bear scat!) and certainly caught nothing.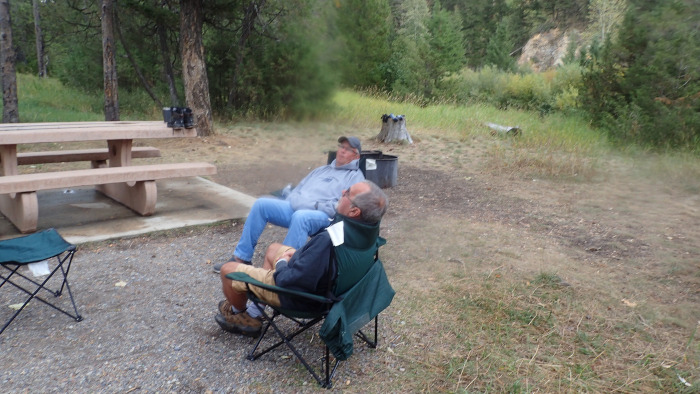 Next day we headed well down the river – to Sperry's Crossing.  Here the river was big, and it was difficult wading.  Drift-boats passed us at regular intervals, but, they are all polite, one even asking which side of the river I would like him to pass.  The final one, I spoke with and he told me that they had been having good sport on an October Caddis – a fly I had no knowledge of.  Later, he stopped and gave Doug a couple of these flies, so at least I could look at them and maybe tie some.  They were BIG!  I only caught one rainbow – really small, and that was on small nymphs.  I dropped back to see the others.  Doug had changed onto the October caddis and immediately moved four fish, but they hadn't taken the fly.  I changed back to Mladen sedge and rose a couple of small fish, the had a lovely small brown trout.  I headed off to see Kev, who had caught a nice Westslope.  I dropped in behind him and shortly caught a large Westslope – 20 inches plus, and boy, that took some playing in the current on my one-weight!
That just about did it for the day.  We stopped at "Trixi's Bar" on the way back – what a lovely spot.  We had a couple of ales, a good chat with the bar staff, and the boys had their chicken wings (buffalo over in USA of some reason) then headed back upriver.
We stopped at an access point and fished again.  Doug wasn't too fussed to fish, but Kev and I had some fish.  We chatted to a couple of guys from out of state.  They told us we should fish Rock Creek after this river, as we would enjoy that place.  I even had a slug of their delightful Jamesons!  Shortly after we chatted to a young couple coming off the water – this was oft repeated on this trip – couples, especially in their twenties fishing together…  They had caught about  dozen fish on "small" hoppers in streamy water.  I asked what "small" was and they showed me a fly of about two inches…I'd hate to try the large ones.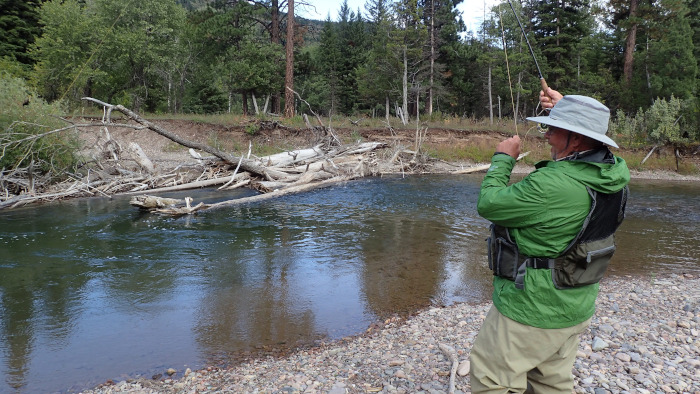 Day three we drove just past Lincoln and all tied some new leaders, fresh tippets and flies.  This session was fantastic with all catching plenty – a good rise started after an hour and a half, and so we were covering fish, and still getting odd ones "blind".  As Doug had caught a couple of good fish Kev and I left him to it and went for a long stroll up river.  We had a great time seeing fish in many pools and catching moving fish and trying good looking riffles to catch others.
Time for some lunch so we went back to see Doug and get the food from the truck.  We ate next to the first large pool where Doug had caught some nice fish, and been broken by one.  Someone suggested that I try a nymph in the pool to see if that would work.  First shot I had a big whitefish…that was the first one we had seen.  I wanted to walk Kev up to the large riffle that I had caught several in earlier, and so we chatted and walked up to it.  We caught a few on the way, arrived, just as the thunder started to roll in.  But, we fished a short while and in that time Kev managed six fish!  Doug was really worried for our safety and had come to take us back.  It had been a splendid day and we were more than happy to "obey instructions" and soon we were sitting in "The Bush-wackers" in Lincoln. Lovely food, an amazingly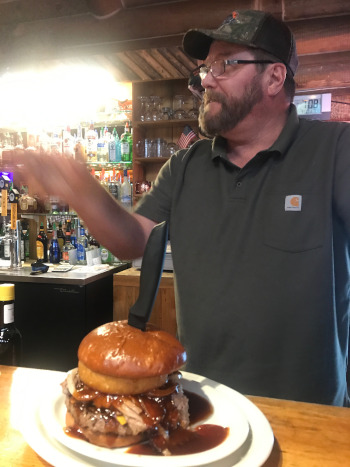 hospitable landlord; all just about the right way to end a great day on the Blackfoot river.
Day four we decided to try Monture Creek, but it was coloured from the thunderstorm the night before, so back to the Blackfoot.  We tried a nice looking spot and caught a few fish, but not a lot was happening.  We fancied trying our good spot from the day before, but stopped at another pull-in before we reached it.  The river here looked good and so we went for it.  Doug and I sat on a log chatting, watching the river and waiting to see if the rain was going to hit us.  We saw odd fish rise, and gradually, as the rain moved off, more and more fish showed.  So, we crossed the stream and started to fish Doug was in pretty quickly, so after photographs, I went to the next pool and had a couple of small fish on the small plume-tip.  I brought Doug here and immediately he caught.  I left him there as he was happy to keep trying as fish were rising well.  I wandered off and had a great session with a variety of methods and flies.  Sadly the final fish I had, I hooked on a beetle pattern – first cast with it, only for my one-weight rod to bust on the butt section.  So, my day was finished. The others were happy to move off too.