Montana September 2019 part two Rock Creek
We had one more day on the Blackfoot and I must say we really enjoyed the fishing.  The river is really accessible and in many places easily waded.  I should say a little about how we generally fished.  Doug has a four-weight rod, I loaned Kev my three-weight an I used my one-weight until it broke.  Our preference is, not surprisingly, dry fly.  Thankfully, most days saw some hatches and even if nothing was on the water a dry drifted over a likely spot would often produce a fish.  Locals like to prospect with hoppers and, we did have odd fish on them, but, I have  feeling that all of the hoppers that I tied were on the small side.
When there was a hatch under way it was either trico or larger olives – occasionally blue winged olives.  The trico feeders were our favourite fish to target as I have a good supply of flies that work well.  The pattern that I use in Ireland for caenis feeders is perfect on the rivers, and it is rare that if you get a good cast in it fails to produce a take. An alternative was a small plume tip.  For prospecting we would either fish a sedge – I particularly like the pattern that Mladen Mercas introduced me to in Croatia, or some type of Klinkhammer – but reasonably small.  We all used tapered leaders to about a 4X and then another few feet of 5X or 6X.
We headed off to Rock Creek via the small town of Avon, where we met Tracy who brought us fresh supplies, there being few supermarkets in the area we were camping.  We had a light snack and coffee in a cafe before heading off.  The drive was pretty spectacular – at first following a railway line and then the Clark Fork river.  This was carrying plenty of water, and in places was really coloured, but we still saw odd drift boats on it.
We found our campsite and set up the R.V. and then headed to the coffee shop and the fishing tackle dealer.  We had good advice from the young fellow in charge.  So, we headed upstream for an evening on Rock Creek.
Wading was difficult, this was a totally different prospect to wading the Blackfoot!  The creek is steep and so the water flow is rapid.  There are few shallow areas, and almost no sandy parts.  There was little evidence of flies hatching and so I opted for a sedge.  I rose a small fish fairly soon, and did get a cast on a couple of fish that popped up for something on the surface and then caught a small cutthroat to "open my account" on Rock Creek.
I went to check on Kev and Doug and found that they too were struggling – as much with the wading as anything.  I made my way slowly up the creek and eventually decided to just concentrate on the pockets close to the bank.  This produced three small browns and another cutthroat, although I must have missed another dozen, all small.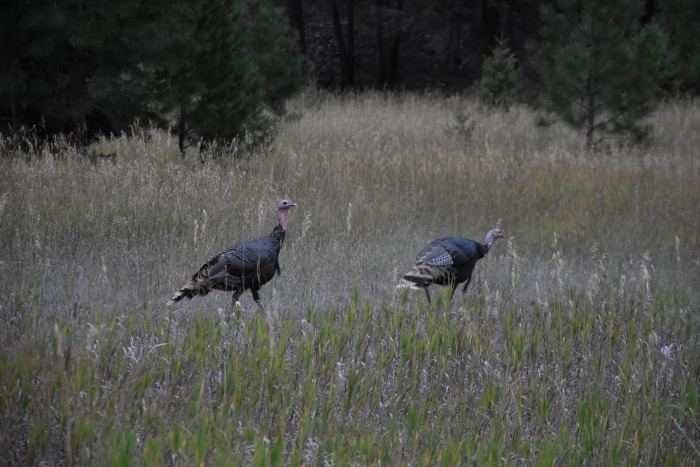 I called it a day when I reached a point that I had to get out and take to the road.  It was a lovely walk back.  Kev was still fishing but had caught, Doug had packed up.  We soon headed back to the campsite – spotting some wild turkeys on our way, and had our meal, a beer and game of cribbage….Doug usually "gets his own back" on us playing that card game….
Day two was a little disappointing as we could barely find any water to fish.  This creek, it seems, is world famous and because of that it was so busy.  Each time we found a free parking area and went to fish, there would be one, two and sometimes three anglers wading and fishing already.  We fished here and there with modest success, and ended up not really liking this creek.  Maybe we didn't see it at its best.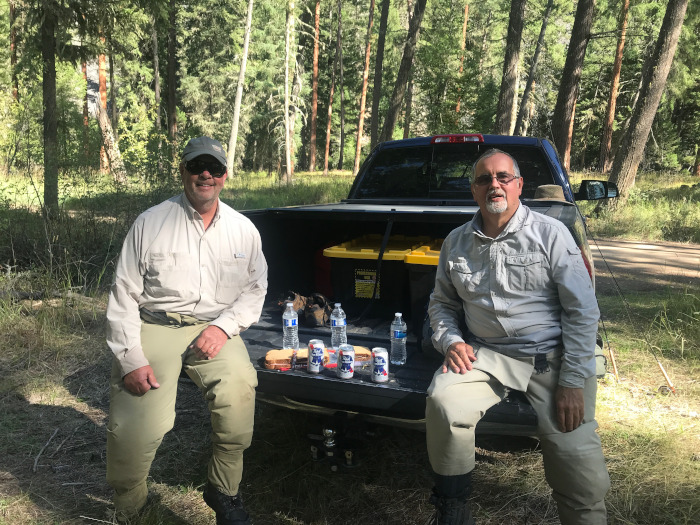 Maybe we just didn't go far enough upstream!  I had corresponded with Larry Urban who does Saturdays in the Orvis store in Helena, and a couple of days later I was to do a day in the shop tying flies and chatting with customers.  Larry told me then that we really should have gone another few miles further up.  Wish I'd thought to phone him when we were there at the creek!  Next time?  I did have a mad half hour as it was getting dark, and landed three lovely fish where a small creek came into the main river.  Doug also came into that area and also had a couple of good fish, so we weren't totally "scuppered".
We decided to fish the creek near the campsite on the final morning and we had some better fishing there.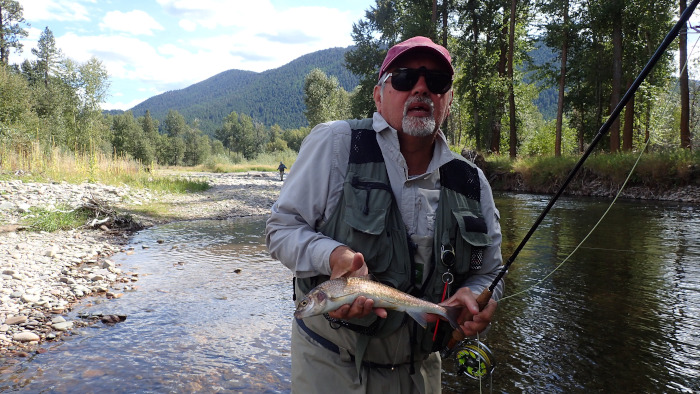 We all took some decent whitefish (why do they not like these fish in America?) and we also had  brown trout and a couple of cutthroats.  But, we were to head back to Helena, and so we packed the kit and left for the city.
Next day I worked in the shop – well, not really worked, more restocked my fly box!  Had a lovely lunch in "Ben and Ernie's", and spent the early evening in a local brewery.  So, batteries recharged we headed to Beaver Creek part of the Mighty Mo (Missouri River).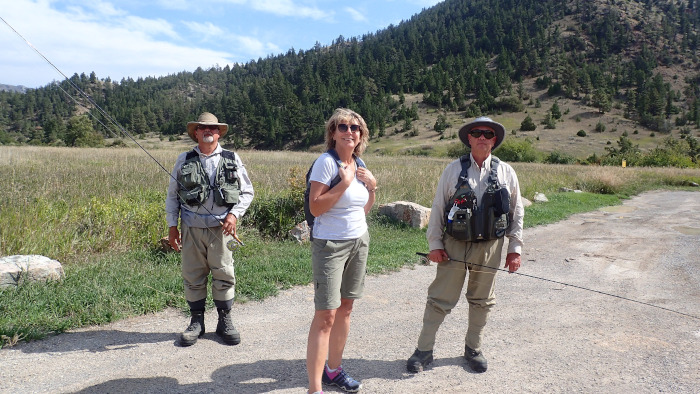 The day (a Sunday) was hot, and grasshoppers were everywhere.  I thought it wise to fish a hopper, but, even after a walk of about a mile and a half, I saw only a couple of rises far out.  Certainly nothing was happening close in where you would expect action.  Highlight of the walk was a close encounter with a rattle snake.  Not being used to these creatures in England, I heard this "rattling" noise and went to look into the large hole that it was coming from.  I spotted the snake and immediately called for Kev to come and see it.  I could see that its head was disappearing into a crack and so it was unable to turn and strike;  sadly it had all but gone into the crack before Kev reached the hole.
On Monday  we travelled a long way – towards Yellowstone, though we were not planning on going into the park.  Tracy had sorted us a campsite on the edge of Hebgen Lake.  We had planned to fish that evening – after setting up the camp, but there was a heavy thunderstorm, so instead we saved ourselves for the next day.