John Wingrove enjoyed his trip to Spain earlier in the year so much that he persuaded me that another trip would be a good idea.  This time instead of a boat to help John to get around the lake Luis, my Spanish friend chose to use a golf buggy, as we were fishing Embalse de Valdecanas, not too far from Talavera.  This lake is really densely packed with barbel and so I knew that if we had some settled weather John would have a good time.  The worry was that there might be too much algal growth.  Three years ago on a trip to the same lake with Luis, the group that I took all struggled to fish clean water and so very few barbel were caught.  Sure, we saw plenty of fish, but they were mostly dead or dying ones in the margins.  The lake had suffered serious eutrification that year due to the high water temperatures.  To be honest we ought not have been fishing, but you know what we are like when we plan for these trips for so many months!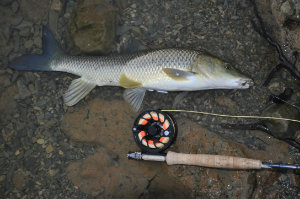 Anyway, the buggy was great and the weather didn't let us down too much.  We had pretty thick fog and cool mornings for the first few days, but afternoons warmed up and the barbel came into the shallows.  Even when foggy there were just about enough fish in close to keep us interested.  The ant pattern again proved to be the best fly – I was tempted to try a buzzer pattern as there were some great hatches in the warm afternoons.  I was fairly sure that the barbel were rising to these flies as they hatched.  Unfortunately I had not taken my usual fly box and I certainly had no seal's fur to tie some!  All I took was foam and materials for tying ants and beetles!  Next time I ought to give the "Bits" a try!
John fished really hard for the first two days and, I believe, he caught six or seven the first day and ten or eleven the second.  The plan was for him to take the third day off as a rest day.  I am glad I made that decision as he slept from the time we arrived at our accommodation on the Tuesday night until breakfast on Thursday morning – apart from getting up for brief meal periods!  On John's day off, Luis took me to the river that feeds the lake.  He had found a spot on a farm where he had worked hard to get permission from the farmer to fish.  The stretch is only about three to four hundred metres long but it was crawling with fish.  However, they were  difficult to approach as there was the most incredibly crunch gravel to try to walk across.  One false step and you would see a huge bow-wave head up the river as the great shoals of barbel disappeared!  I eventually worked out that crawling on all fours was the way to get close enough and soon I was able to cover some barbel.  The river fish are really much more difficult to get to take the fly as they seem to be feeding intently on small creatures in the gravel.  Tailing fish could be seen across the shallows on the whole stretch.  I had my first river barbel on a dry fly after about two hours of fishing and was really disappointed with its fight.  That, however was the only one that did disappoint.  I took six more fish and they were really close to bonefish in their fighting ability!  And such beautiful fish too!  All were in pristine condition.  They were plump, as I have said, hard fighting and beautiful!  I must try to find some more places to fish for these Spanish barbel in rivers!
Back to the lake for the final two days and plenty more fish for John.  Strangely, he would fish in one spot all day, and the fish came to him.  In all of my trips I have found that rarely happens!  In fact I would say that I find the opposite, in that the further that you are prepared to walk, the more chance I believe that you have to catch a fish!  I am inclined to suggest that you are rewarded for the distance that you travel!  John seemed to disprove that theory, but then Valdecanas does have a very big population of barbel compared with other lakes.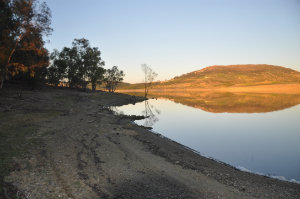 I hope to get back to Spain in 2016, but if any clients or readers of this want some information about the fishing please drop me an email.  It really is good fun and quite possible to do on a family holiday.  Luis runs trips for anglers from all round the world, but I warn you he is not cheap.  He does provide first rate accommodation.  The system of "Rural Houses" in Spain is really excellent.  I have yet to stay in one that is not fantastic!  And, most trips that you might want to do for barbel are in the less busy tourist times of the year.
A word of warning.  Don't think about fishing for barbel in June, July or August as it really is too hot.  Spring or autumn are fine, and even in winter you will find fish feeding if the day is warm.
Just past the middle of July and the wind has been relentless.  I cancelled my client yesterday, BRFFA have decided that it would be in everyone's interest to cancel tomorrow's "Troutwatch" Hidden Teams event, and I am about to phone Monday's client to cancel that trip.  Tomorrow and Monday we have winds forecast at over 25 mph, which from the south is pretty hopeless on Chew.
Annoyingly the week before last was my best of the season with clients doing great things: Jonathan Howitt took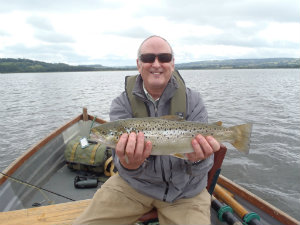 twelve trout on dries on the Tuesday – returning a brown trout of 4lbs 9oz (pictured right) and three of his rainbows, yet still weighed in over 25lbs of fish.  Marc (pictured below) had six fantastic fish in a half day session on the Monday, and then on the Friday Ken Pascoe and his son John took fifteen trout throughout the day. Ken just couldn't manage that eighth fish to complete a "limit" for the first time, in spite of rising around twelve fish, hooking and losing another and smashing on a big fish…all after landing his seventh!  On Thursday Laurence had three fish on the only tough day of that week and I had Wednesday at Blagdon.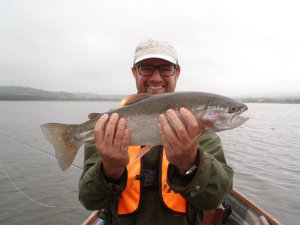 The Blagdon day was for the Yeo Valley Organic food company.  They hosted a "catch and cook" day, and I had to organise 23 ghillies to look after many first time anglers.  The day was a relative success, with about 45 fish being caught in the short time that the guests fished – three hours at the outside.  I had two journalists along with me -Martin and Andy, both directors of the S.W. News Service. Andy fishes a bit in Ireland and soon hooked a fish, but, it came off. Then Martin, who had never caught a fish in his life hooked a decent fish on a dry fly and played (expertly) and landed a brown trout of exactly 4lbs 8oz (pictured below).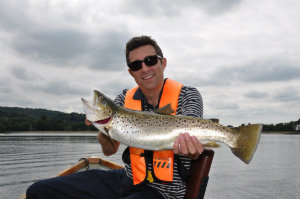 Some fish to take as your first ever! Andy then caught two rainbows and lost another three.  Had he managed to land one of those fish he and Martin would have been top pairing!
I'm off to Rutland for a change of scenery next week, though the way that Chew and Blagdon are fishing it is hard to drag myself away!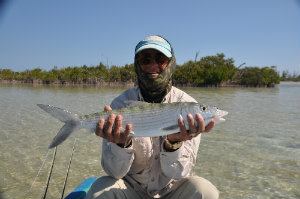 I couldn't get my usual spot in Cuba this year so I booked in for a month earlier. The group met up at Gatwick after check-in and once we had ensured that a decent supply of "whicky" (as the Cubans call it) was bought, we settled for a chat over a departure refreshment. This year there were seven of us. Crooky as usual, Simon Hodges and Andrew Barker who both came last year, and new to our party, Matthew, John and James.
The flight seemed longer than usual, maybe we were all so looking forward to this particular trip! But, on reaching Havana we were through the immigration ever so quickly as I had made the decision to book at no great expense the v.i.p. "meet and greet" service. I wholeheartedly recommend this service as later in the trip I spoke with a couple of people who were on our flight and they took over two and half hours to clear immigration. We were in the lounge awaiting our bags within half an hour, and we were able to get a cool beer in the air conditioned lounge!
Money changed and bags loaded off we went to Caleton. The driver was as slow as any I have encountered in Cuba, but I guess he was at least pretty safe. A quick snack greeted us at our Casa and then we hit our beds.
The guides were waiting for us next morning as we headed down the long track to La Salinas. As per the night before Camillo – our driver, was very cautious and this meant that the journey to fishing each day would be over an hour. However the coach was fairly comfortable and we could chat and sort out gear and leaders if we wanted to and one or two of the group would usually catch up on sleep.
First day on the flats was wonderful. It was so good to be back there again. Everyone caught fish that day, though the newcomers experienced much frustration as they attempted to cast at the "ghosts" that the guides were repeatedly pointing out! By the end of the week all of the guys were spotting some fish and catch rates improved.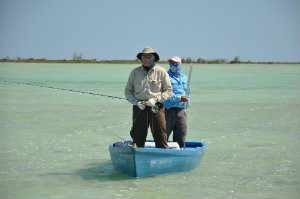 James had a superb jack crevalle of about twenty pounds on day three . This fish was caught on his eight-weight bonefish outfit and took him at least an hour to land. John caught the largest bonefish which measured 57 cm, and so would have been around 6.5lbs – great achievement on his first trip. Simon had the most bonefish for the week, whilst on one day alone, Andrew managed to catch 24 bonefish! Strangely, that day I managed not one bonefish, though I did catch my first shark on a fly.
There were several decent barracuda caught by the party, one or two decent snapper and many odds and ends. Tarpon were few and so we opted out of trips to the river. Crooky managed one tarpon as did James. My day on the river resulted in quite an amazing hook-up! I had stopped for lunch with my guide Jasil next to an old hulk half sunken. I had hoped that there would be a few snapper around and had changed from my 400-grain line with a black death fly, to a floater and clouser minnow. There were no snapper around so we relaxed and had our rolls. Then I spotted a fairly decent snapper appear from under the stern of the boat. I dropped the closer towards the fish and it took instantly. At that moment a juvenile pelican flew into the bay and immediately seized my fish! I was now playing a pelican instead of a snapper. Eventually I wrestled the snapper out of the bird's pouch and managed to swing it in before the pelican was able to grab it again. The fish lost a few scales but seemed untroubled by the attention that the pelican had given it!
We experienced some unseasonably cool weather this year and several mornings and evenings had to don a sweater or fleece as all of our meals were served outdoors as is the norm. We even had to wear an extra layer on a couple of mornings on the flats. However, by one or two every day temperatures were hitting 26 plus, and we often went over 30 degrees. The flats took longer to warm up than any trip I have done so far, and so it was no great worry to pole out for a long time (and distance) as there were often few fish in until the water warmed.
I saw permit on day one and day two. The first day the fish were already disturbed and chasing about in an odd fashion. On casting in front of one of the fish it headed straight towards my fly but turned around and set off for the horizon at an amazing speed. The two fish I saw on day two were feeding and oblivious to my guide and me. I managed a decent cast and one of the fish swam over to my fly but didn't pick it up. However it was not disturbed so I had another shot. This time the fly was ignored, so I went a third time. Again one of the fish came to the fly, but again it failed to take. Another couple of casts did nothing and then the fish just moved steadily away. I'll get one yet!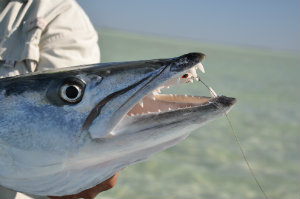 I tried to book the place for next year as we all get on so well with the guides and the lovely people who run our casa, but no bookings are being taken. IT seems that as the market is opening to the Americans, the fishing lodges and operations are beginning to realise their potential and so are making plans to capitalise on things. So, I have made arrangements to return in late October through to early November as the operation I use will still be available then. Anyone interested in that trip please let me know as soon as possible. I will be emailing my regular clients with details.