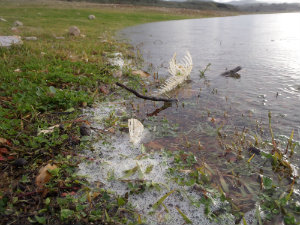 Almost the end of 2014, and my website, updated and much improved (I hope you agree) by Bob Jones, is at last becoming accessible to me! I have spent some time refreshing the pages (text anyway) and I hope that the effect is good.
I will get to work sorting out pictures for the gallery in the next few days, as I would really like to have images of most of my clients in the gallery. I hope that through the year I have provided images for the clients that have been out with me. If I have managed to miss any of you out, please do not hesitate to contact me and I will ensure that I get some images emailed to you.
Chub fishing time of the year! I had the usual Boxing Day trip in the pouring rain! It did not relent all afternoon and by the time Steve and I made it to "The Swan", Swineford, we were both really quite wet. However, we had both caught six chub – a record for a Boxing Day trip! My fish were not large. I could have swung two of them in with the outfit I was using, though any fish over a couple of pounds pulled like a demon. Steve had the best fish – his very last one after I had packed up (he has isotopes on his rod and he also seems to remember a head-torch each trip); it was about three and a half pounds.
I will be adding an online booking form to the site in the next couple of weeks. So, look out for this if you want to get ahead with bookings in your new diary.
Tight lines and loops for 2015.