Half-day packages
---
For the angler starting their 'career' in fly-fishing, the half-day trip is often the one that I recommend, especially if it can be timed to coincide with a good evening rise on the river or lake.
Instruction provided into the following:
Casting where necessary
Selection of artificial flies
The right balance of tackle
Leader length and construction
Where to fish the river/lake
How to spot a rising fish
How much 'lead' to give the fly (how far in front of the rising fish one should cast
Playing and netting the fish
Usually the half-day trips are conducted during the week as many fisheries have more pressure on them at weekends, and a light snack (usually cooked meats and bread and cheese from the local butcher) along with wine will be supplied. As with all other packages, I generally email photographs of any 'action' that my client has had.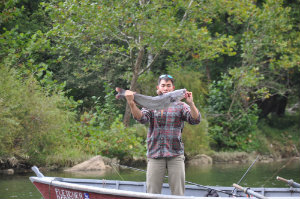 An evening in May on Chew Valley Lake, with trout sipping at the surface flies, the sun setting over the Mendips, and swifts taking their last few flies before ascending into the skies, is the essence of trout fishing.
A highly recommended trip!