Montana 2019 (part three)Quake Lake and Madison
Tuesday morning we went into West Yellowstone.  The weather had changed dramatically and it was barely ten degrees.  We were in no hurry to fish.  A coffee, and then visits to two tackle shops killed a couple of hours.
"Big Sky Anglers" was some shop!  In there I met a good pal of Gareth Jones and he was just so helpful.  In fact we left with so much information on places to fish that we were bewildered.  The sun had by now appeared and although a few showers came through the day it warmed up enough for us to fish.  The first spot we were advised to try was impossible to find.  Secondly, we tried Grayling Creek, which looked beautiful.  Clear water, easily wadeable with lovely runs.  We even saw a rise as we walked towards it.  But, that was the only fish seen, and so, after a fruitless hour of exploring we carried on round Hebgen.
We found a suitable stopping bay and gave Hebgen an hour and sure enough caught a few trout, but none were of any size, and so we carried on towards Quake Lake.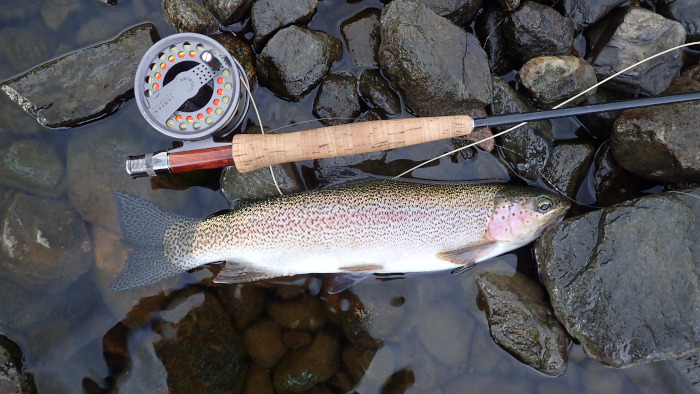 I wandered off and fished towards where the river flows in, though it was much further than I had imagined.  I caught three or four brown trout that fought really well though were only about twelve ounce to a pound.  I missed a few sharp takes too.  Heading back to check on the others I saw a decent head and tail rise and so put a fly in front of the fish and had immediate success.  The fish raced into the lake and I was soon into backing.  The fight though was quite short and soon I had a beautiful rainbow at the side of the lake.  This fish had taken my small caenis pattern and it was obvious that a good hatch of tricos was underway, so I made sure that Doug and Kev were aware of this. and insisted they put on my small flies.
Kev soon started catching and he ended with three fish, one of which had the hook so far down that it was bleeding badly and so, sadly, he had to dispatch it.  This is always a dilemma when fishing in a C&R venue.  Ethically we always want to return our fish, but knowing full well that the fish was going to die, we feel that a sharp knock on the head is the best option.  The fish was eaten next morning for breakfast so it was not wasted.  But, most interesting part in this story was that when cleaned, the rainbow trout had been eating nothing but daphnia.  There was not a trace of tricos in it.  This accounted for the fact that the rises we were seeing were so small – barely breaking surface. We were treated to a most spectacular sunset.  With such beautiful and hard fighting fish to be had we could barely await morning!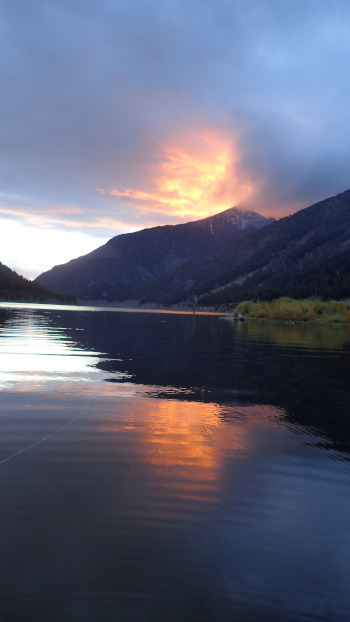 Next morning was cold again and so we didn't hurry out.  We wandered round the lake by the campsite.  Saw nothing much but it warmed up a little.  We decided on an early lunch before setting off and so had some lovely bacon sandwiches.
Arriving at our spot of the last evening, there was a massive hatch of calibaetis going on and we virtually ran back to the truck to get out gear sorted.  As with yesterday I walked off left and Kev went right, Doug staying fairly central.  There were fish taking flies off the surface and in this clear water and sunshine they were easy to spot and cover, but I had one of those sessions when it all went wrong!  The first fish I covered I hooked but the tippet broke on my leader ring (I am not a great fan of these, and this added to my doubts).  Next fish I covered took really sharply and I just lifted too quickly and snapped the fly off.  Then I managed to stick the fly in a bush and spent ten minutes extracting it….
I needed to change my leader after the trouble in the bush, so I took off the ring and added a heavier tippet.  Good job I did this as the next fish I hooked was a feisty rainbow of 18 inches.  With that the rise ended.  Walking back I only saw two more possible targets but they only rose once.
We went to the visitor centre for Quake Lake to find out a bit of its history.  Sadly it was shut, but from the information boards around it we learnt a little.  There was not previously a lake there – this was the Madison River.  But one weekend during a holiday season weekend in August 1959, with many campsites full of holiday makers, there was a massive earthquake that brought rocks piling down.  In no time there was pandemonium, it being at night.  Tragically, 28 deaths were recorded, nineteen of the bodies never even recovered.  There was still great danger as the river backed up by the massive rock fall threatened to bust the rocks and cause a tidal wave downstream.  Engineers had to work quickly to sort this problem, which thankfully they managed to do.  So, Quake Lake remains as a memorial to those holiday makers killed.
Back to the fishing we now had a terrific wind to cope with but it was sunny.  We fished the end of the lake where the river flows out.  We could see odd fish rise – one or two large ones in amongst the ghostly trunks of drowned trees.  A fishing guide came out as we were close to a boat ramp and on chatting he said it had been a "quiet day…with only about two dozen eats".  All to grasshoppers!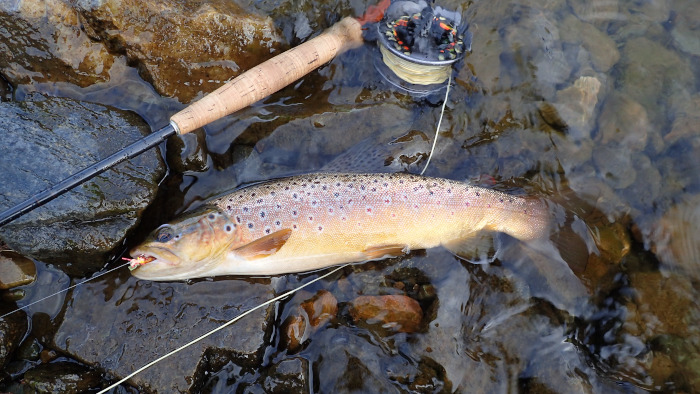 That did it for us and straight away we dived into the hopper boxes.  I fished a green and beige fly for a while with no reaction, but first cast on a dull fawn coloured one I had a nice fish, but yet again it broke the tippet! The session followed the pattern of the morning with many chances – I ended up walking about a mile, but few fish landed.  I don't ever fish such large flies and have not yet worked out the timing of striking.  Fish were certainly coming to the hopper, but it didn't matter if I waited before striking or if I hit straight away!  I could not hook the fish.  Then, without any explanation, I managed to land the next four fish that came to the fly – all brown trout between 15 inches and 11 inches.
Doug and Kev had driven round and were in a lay-by that I was walking towards. I jumped into the truck and we had another hour or so at our earlier spot but it being windy, not much happened!