March in Spain
On the 23rd March I took the plunge and set off to Extemadura with regular client John Wingrove.  John is on a great amount of medication for various problems and so this was a trip undertaken with reservation.  However, I had employed the assistance of my friend and local guide, Luis Meana, the master fly tier who specialises in the "paradon de Meana".  Luis is obsessed with the fly from the coq de Leon and has virtually devoted his life to making his flies more widely known.  Last November he had to cancel joining me on a fishing trip because he was invited to present a talk and demonstration on his flies in New York, and next weekend he heads off to do something similar in Denmark.  I can recommend his book all about the subject – "The Paradon de Meana and the Feather of Gallo de Leon".  You can check out his website www.cotossalmoneros.com" for a lot more information.
We met Luis at Madrid and were soon speeding down the motorway to La Siberia.  This is a part of Spain rarely visited by tourists.  It is, as its name suggest, remote, and wild.  However it is truly beautiful.  And the system of reservoirs is just stunning.  It really is a fisherman's dream to visit such a place.  Many barbel fishermen know all about Orellana and I have previously fished Cijara.  In Cijara there are some great pike, a lot of black bass and a somewhat puzzling amount of barbel.  I was first put onto fishing Cijara by Andy Lush (you may know him as the owner of "The Friendly Fisherman" fishing store).  He had discovered barbel fishing there many years ago and these barbel were avid feeders on surface flies!  That to me sounded too good to be true so it was not long before I was booking a trip and heading out there.  Well, on arrival we found few barbel – apparently all spawning, though I have my doubts on that, but many black bass which were really keen on taking  fly, and so we had a great holiday fishing for this strange fish.
I have returned several times to fish for barbel with dry fly and always managed to find some feeders.  As Andy suggested to me way back, these barbel just love a surface fly!  It seems so odd.  You can watch the fish cruising and occasionally grubbing around on the bottom, but put an ant pattern, or a beetle over them and you have a good chance of them taking this imitation.  For a couple of years this has puzzled me as I have never seen a barbel rise to a natural fly.  But, on this trip with John I saw this happen regularly.  IN fact on the one day when the temperature reached around thirty, there were many different insects around and obviously some of them fell on the surface of the lake.  The barbel didn't miss out on this opportunity.  John and I had good sport with the fish – and, all were caught on dry flies.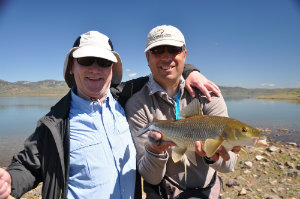 We caught two species of fish.  The small headed barbel (microcephalous) and the Comizo barbel.  Luis actually has a theory that many of the fish that we think are comizos are in fact hybrids, I leave that disection to him.  All I can tell you is that this is seriously good fun fishing.  I would suggest that the fish that are rising are easy enough to catch….the problem is that they are usually way out in the lake.  If they move close enough to the bank then you generally get a response.  However, the real challenge of this fishing is to work on those fish that are cruising the margins.  These fish are looking for feeding areas.  They often stop and start feeding on the bottom.  Sometimes they feed like bonefish (in many ways they are very like bonefish, not least the first run that the microcephalous makes) and show their tails as they are feeding.  A cast in front of these fish sometimes produces a reaction.  If it does not, then it may pay to present the fly a little "heavier" in order to distract the fish from its feeding on the bottom.  Of course this comes with the risk that you may completely frighten the fish away, but, hey, there will be another chance a hundred metres along the bank…
The most important aspect to this fishing is getting the conditions right – though isn't that the case with most fishing?  The BEST fishing conditions in Extremadura are bright sunshine and calm!  These conditions give you the most amazing spotting conditions.  The lakes are clear anyway, but with the sunshine that we had on the final two days, it was often possible to make out a fish moving along the bottom at over fifty metres.  The shallow margins are the first parts to warm up and so the fish take advantage of this as soon as the sun gives off some heat.
John had two great days of fishing and managed to catch nine fish.  Several of them took him well into his backing.  His best fish would have been around five pounds.  We both fished with five weight rods, tapered leader and tippet around 10 pounds.  The flies are fairly big (beetles on a size 10 or 8 and the ants and grasshoppers are on a longer shanked hook about a ten) and so there is no point on fishing any lighter.  The fish don't seem too worried by the thick tippet.  There are few obstructions in the lake, but often there are plenty behind you.  I can highly recommend a trip out there.  Personally I cannot wait to get back.
Finally I must say that those of you who are interested in the wildlife aspect of your sport, then this is a MUST trip to do.  The birdlife is amazing.  I saw many species that I have never encountered before – including a pratincole, a crag martin, serin, and Imperial Eagle.  I heard cuckoos each day, saw hoopoes and azure winged magpies, and spectacular butterflies including swallow tails.  And storks can be seen nesting on all sorts of odd places, including a huge crane!