Guiding
---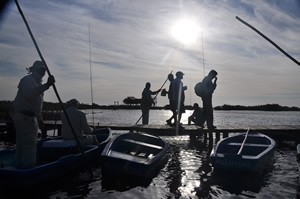 Martin has a long list of regular clients who book him to look after them on the Bristol lakes. Many of his clients come from overseas, with Australian and South African fly fishers seemingly very keen to get to know Chew and Blagdon. With many repeat bookings, Martin has a diary that fills quickly once thoughts turn to trout fishing in Spring.
Dry fly for trout is the area in which Martin is especially sought after by both foreign and local clients. Martin makes no secret of the fact that he spends almost the whole of his season on the lake fishing dries, and as a result, has developed flies and methods that are very successful. He is also familiar with areas that are worth exploring according to the season and weather conditions.
Martin has specialised in fly-fishing for pike over the past fifteen years. Countless clients have experienced their first 'twenties' on fly, and in this rapidly expanding branch of the sport, he has built a reputation second to none. His personal best on a fly is over 32lbs.
If the fish are down, then let Martin help you improve your nymph fishing tactics. With Martin's intimate knowledge of the lakes, and the fact that he is on the water most days throughout the season, he will keep you in touch with the 'hot' areas and flies! Buzzer fishing in spring is a specially favourite time for many clients, and in the past couple of years Martin has been booked seven days a week.
Currently the secretary of the Bristol Reservoirs Fly Fishers Association, Martin is very happy to put time back into the sport to help others develop their knowledge and interest. No charge is made for junior anglers attending a trip with a parent. Roughly every two weeks, Martin runs 'Beginners' Days' for Bristol Water Company – these are a good way to start off fly fishing especially if you have a friend who would like to attend with you. However, Martin can organise a session for a small group if the Bristol Water dates, which have to be set out early in the year, are not convenient to you.
Although river fishing is not renown in the Bristol area, Martin takes guided trips to the chalk streams of Hampshire and Wiltshire, and also over to the Rivers Usk and Wye in Wales.
If you take a day on the lakes or rivers with Martin, he will endeavour to teach you a great deal about the wildlife around us. Martin has an intimate knowledge of the flora and fauna in the areas that he fishes.
Martin has no desire to haul out loads of fish and he finds most clients are like-minded. These days for many clients more fish are returned than taken, and the method of capture is more a measure of the quality of the day than any other aspect. Martin always 'enforces' a lunch break (usually on the island if on Chew) and he cooks a meal and provides quality wine for all full day trips.
Martin believes that the essence of the sport of fly-fishing lies in seeing things happening, and to this extent he just yearns for the days when the fish are on the surface sipping the hatching insects. Book a day with Martin and he will do his utmost to ensure that you share his passion for the sport.
Copyright © Martin Cottis