Slovakia – land of apple trees and golden rod.
My proposed trip to Venezuela was cancelled virtually last minute by my heart surgeon friend who lives and works in the country.  I believe that conditions in Venezuela have now deteriorated to the extent that it was possibly too dangerous for me to travel there.  So, I booked a last-minus trip to Europe.  A beginner on a recent class at Chew suggested that Slovakia would be a good place to visit as he has a property there.  I considered this, but also consulted friends Ondrej (formerly from Czech Republic) and Paul Reddish, as both of these men have fished throughout Europe.  Both advised Slovenia or Bosnia in preference to Slovakia, but flight costs were too high and so I booked my flight with Wizz Air, and a hire car with CarRentals.com and set off.
I was impressed with Wizz air.  They have a generous allowance for luggage (if you join their "club"), and the whole process with them was a pleasant experience.  I arrived at Kosice Airport in the early hours of the morning and picked up my hire car.  My first couple of nights were booked at an AirB&B in a small village called Liptoska Kokava.  IT is very close to the river Bela, where I planned to fish the first couple of days.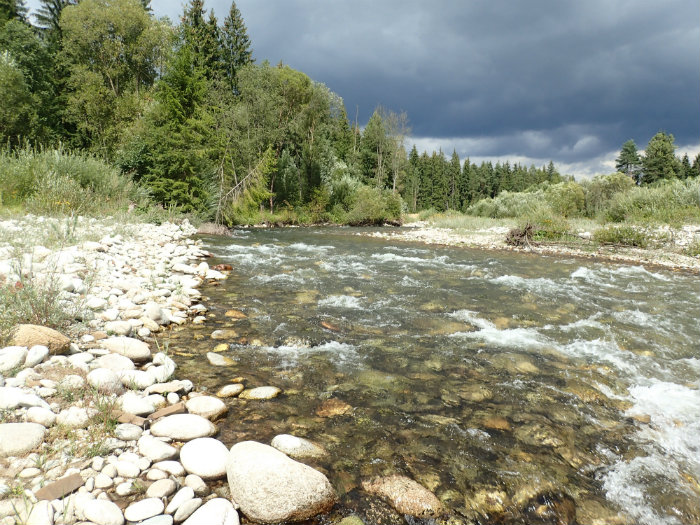 I met my guide for the first day – Andrej, and we went to buy my daily licence.  He had already sorted out the state licence – I had provided him with my passport number and all the other information required.  This bought we headed for the river Bela.  Andrej explained the style of fishing we would be doing.  Basically he likes to fish a strike indicator (he uses a piece of booby cord) and then two heavily leaded flies to get into the depths.  The point one is his heavier fly (I know that in U.K. many anglers prefer the dropper to be the heavier), both being tungsten bead flies.  A dark pheasant tail went on the point and a smaller hare's ear went on the dropper.His whole set-up was rather a complex set of knots and loops and more knots – personally I prefer to keep things simple, but, as a guide myself, I know to just "go with the flow".
We parked my car (he left his back in the main town at the hotel) and then walked downstream for about thirty minutes.  We fished our way back up the river.  The Bela is a gorgeous clear river with one heck of a fall on it.  There are trees fallen in it, big boulders, cliff faces, wild flowers down to the edge, and best of all, wild raspberries and strawberries to eat as you work your way along the bankside.  At times the river can be crossed relatively easily, at others it is far too difficult to cross.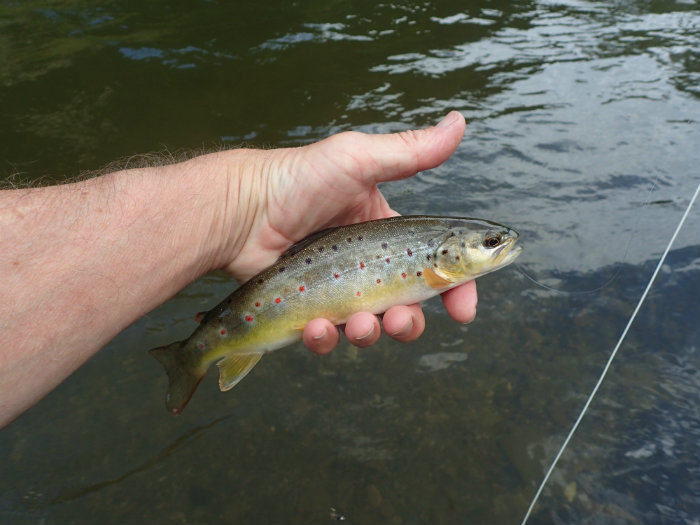 The fishing was slow.  With the flow as it was I was never confident that my flies were really getting deep enough, but regularly I had Andrej yell "strike".  I did so even when he didn't tell me to and after about the one hundredth I actually asked him if he really believed that these were fish at all!  HE thought that many were…..
On about the third pool that we fished I hooked my first brown trout.  It fought hard in the fast current and although not huge took a bit of landing on my Helios four weight.  I caught another four or five through the day, but have to say that just being there was enough for me as it was such a beautiful environment.  Any fish on the end were a true bonus.  There was no rise on the river, and even though we stayed relatively late nothing seemed to happen after about five thirty.  We could have fished until eight thirty, but I was happy to end at a decent time as Andrej had a two-hour drive home through the mountains.
I woke next morning to heavy rain and suspected that the river might be in flood (I had been aware of the rain a couple of times in the night), but on crossing the Bela on the way to the hotel that sells the licence, I found that it was as clear as the day before.  I opted to fish the larger river – the Vah on this second day and paid my fees.  I drove to the spot that I was to park and only then discovered that the Vah was indeed really badly coloured and high after the rain.  I returned to the hotel and the lovely receptionist was able to change my licence to the Bela.  I fished further downstream than the previous day.  The river if anything looked even better down here.  So, I lost myself for the next five hours!  I had a wonderful time fishing pools, glides and falls, and all sorts of venues.  I caught several grayling on this lower bit of river, and had some decent browns.  But, I never felt that I had the river worked out.  IT really is as fast a river as any that I fished even in New Zealand.  I don't like the strike indicator idea of Andrej, and I felt that a four-weight was probably just a bit too heavy.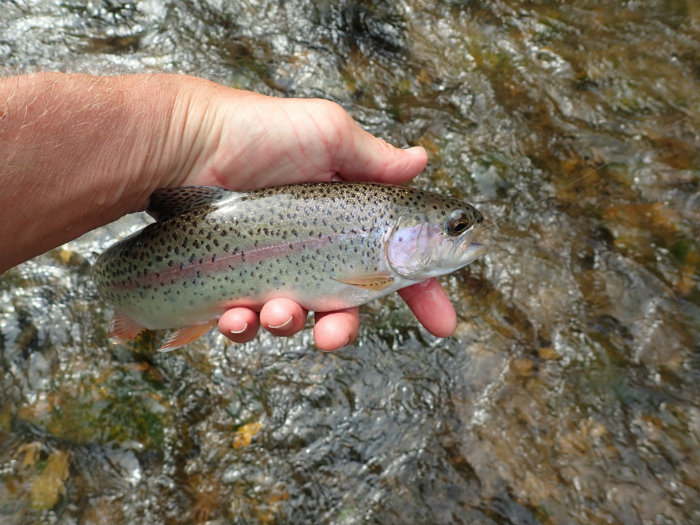 I returned to the car and decided to fish near to my accommodation – the river braids there and is rather appealing to look at.  I found one really deep pool with a couple of very large grayling but I did not have a bug heavy enough to get down to them.  I fished up the river until sunset, adding not many more (as the day before, things seemed to go quiet after five thirty, in spite of the fading light).
Day three and the Vah was fishable so I went up to my appointed spot.  I found a lovely pool just off a sharp bend and I thought that there had to be a good head of fish here.  I caught one fair sized brown trout, but thought I should have had more.  The river shallowed round the corner, but became so rapid that it was impossible to walk any further.  I went upstream on the bank and tried further up the river.  There were no decent pools so I decided that I would try the first pool again, but with a longer leader.  This really did work well and first run down I had a good brown, then a small rainbow and then a small grayling.  I caught  couple more fish before deciding that I would look near the town.
The river here was a bit less attractive as it backs onto factories and tower blocks, yet the pools were just as good.  I fished the evening and managed a couple on dries, in fact I opted to stick with dries as odd fish were showing, and in the fast riffles grayling especially would just come up and take the fly.  The smaller fish proved really difficult to hook, but I managed a few.
I returned to my hotel – I booked a room in the place where licences are bought.  I went to the restaurant for a well earned beer and meal, only to find that everything closes at nine.  I'd fished until eight thirty and by the time I'd checked-in, taken bags up, washed and gone down to the bar, I was only in time to take one beer!  To be honest I was happy enough with a relatively early night.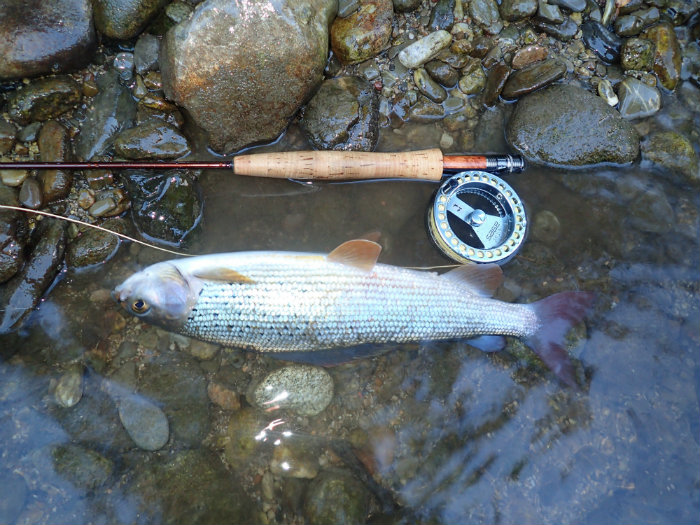 Next day I set off to Rozemborok – a big town further downstream on the river Vah.  I had read that the river being larger here had a bigger population of grayling, and if that wasn't too good, then the smaller river Revuca would be worth a day.  I found the lovely tackle shop called "Thymallus" and chatted with the guys there about my fishing the next three days.  IT turned out that there was a big competition on the main river on Saturday and Sunday and the bank holiday Monday!  So, I would not be allowed to fish it.  So, I had no choice but to fish the REvuca.  I was also advised (and had read) that the ski hotel called Hotel Bodegas would be the best area to stay and fish.  This was superb information and I had a brilliant two nights there.  The river is a delight.  I fished it with my one-weight and dries (I did give the nymphs a short go but although I caught a couple, I decided that working the river with dries to be the best option) and over the two days covered a huge amount of river and caught plenty of browns, a couple of rainbows, one brook trout and many grayling.
In the fast water a small paltered fly was easily the best option.  The local fly was one that had about two thirds grizzle hackle (rear part) and front part furnace hackle.  The flatter sections I used my friend's Paradun – Luis Meana's pattern is a gem!  I had some really good grayling on the second day in a long flat pool.  These fish took a lot to coax up.  The best pattern was a size 20 pardon.  Luis' flies are all tied with Coq de Leon feathers, and have rather complex tying, but I think it is well worth it.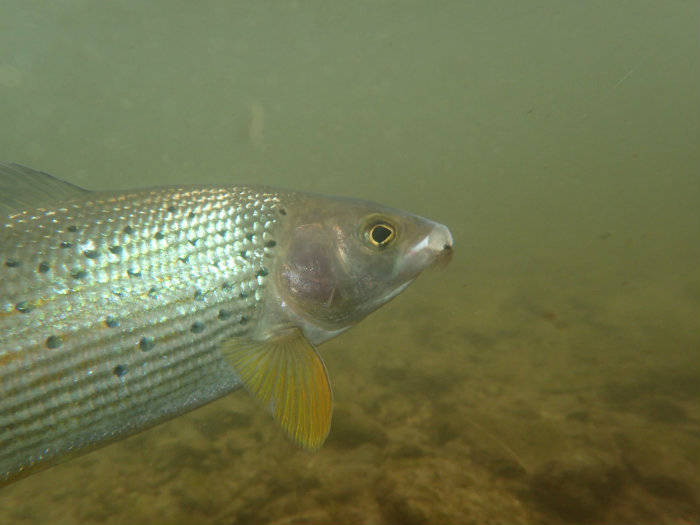 On the second day I fished until dark and came upon a fantastic area that came alive with rising trout for the final twenty minutes.  I caught plenty of these feisty browns and when the fly stopped working I realised that it had completely disintegrated!  That was then time to pack up and trudge back to my hotel….again too late for any food!  But, the compensation is that breakfasts are really fantastic.
I drove back along the main motorway to fish at a small village called Svit.  This is on the river Poprad.  I spent ages trying to find somewhere that might sell a licence.  Everyone warns you that fishing without one is liable to end you up in prison, though I wondered if that might be a modern myth.  I didn't have my licence checked once in six full days fishing!  I drove to Poprad to the fishing shop that opens seven days a week, only to find it was shut.  The guy who runs it was probably fishing the competition down on the Vah!  In desperation I went to the main town and tried in the largest hotel.  Again the receptionist was wonderful and found through several phone calls that a small Pension in Svit would be able to sell me a licence.  So, back to Svit and sure enough I bought my licence.
I was soon tackled up and in the river.  The small river is a series of small weirs.  I fished the entire length of one of these areas without so much as seeing a fish.  As the approaching thunderstorm threatened I cast into the white water of the weir and immediately hooked a decent brown trout.  It slipped the hook, and nothing else came to the fly.  I hurried back to the car as the rain worsened and the flashes of lightning became more regular.  I was stuck there for almost two hours, but eventually I was able to get into the river again.  I went up to the stretch above where I had finished.  As I stepped into the water I spotted a fish rising and about third or fourth cast hooked it.  IT was my largest brown trout of the whole trip and fought well.  However, as I played it I could see the river visibly rising and so by the time I brought it to hand, I had to get out and call it a day.  That was the end of my fishing in Slovakia.
I drove to the airport the next day across the mountains rather than along the motorway.  IT is a really beautiful country.  As I said in the title, it seems like all of the roads are lined with apple trees.  And Golden rod can be found along the hedgerows and riverbanks in profusion.  I will surely return here of the ease of travel, the lovely people and the beautiful rivers will call me back.  However, I ought to check out Bosnia and Slovenia too!