Grayling in Croatia
Regular client Marc Freeman asked if I would set up a trip to Slovenia for him.  He had a precise weekend available (wife heading off to a hen weekend at a music festival) and so I started looking around.  I just happened, shortly after the request, to bump into Ryan Billic, a friend of Alan's and he originated in Croatia, and suggested that if I wanted to try that country he could help me to set up the trip.  He also knew "the best" guide in Croatia.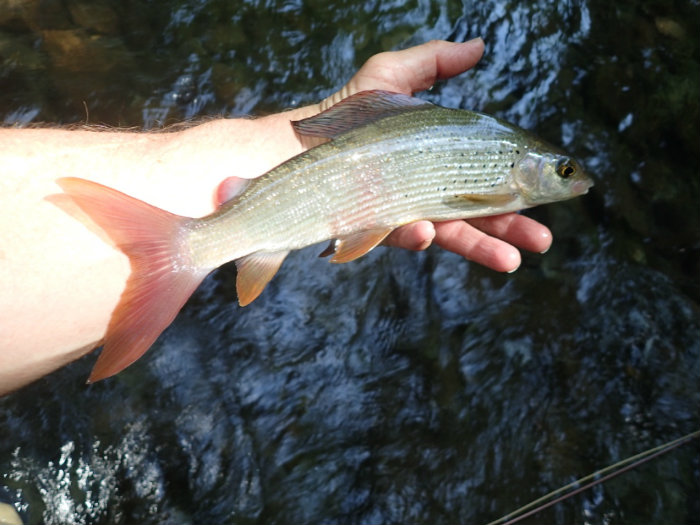 The Croatian grayling have huge tails
So, I went with his advice, sorted out flights, accommodation and off we set.  Everything went smoothly for the three of us (I should have said that Paul invited himself along on the trip) and we soon arrived in Brod na Kupi, the small village near to where we were staying.  We shopped for a few provisions and then headed to our accommodation.  This was where the first problem arose.  Our village was so small that we passed though it in about the blink of an eye, but we couldn't find house number 17.  Three times round and also down a couple of side roads, and still no sign.  Fortunately the owner of our house saw us and came out to greet us…in Croatian.  Zdravko was pleasant enough and being the brother of the fishing guide, phoned Mladen and asked him to come and meet us.  We were then shown to our rooms….only Zdravko seemed to think that we would like to share a room!  Yes, all three in one small bedroom.  It seems that is the custom in the country.  It took a lot of persuading to make him let us have three separate rooms!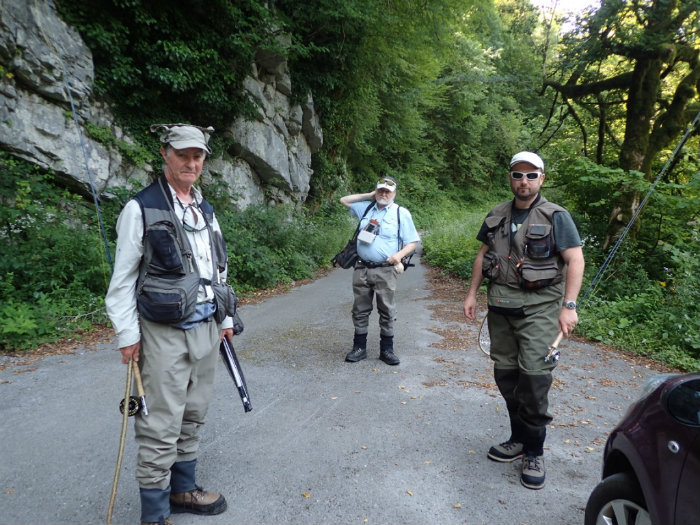 Paul, Mladen and Marc
Brother and fishing guide Mladen arrived and we talked fishing, compared flies, and had a couple of glasses of the compulsory sliivovica – the local "rocket fuel" that poses as an alcoholic drink!
We then walked the short distance behind the houses to see the river.  It was a pretty sight.  The Kupa is quite large at this point even though it is only a few kilometres from the source.  We saw a few fish rising and fancied popping back later to have a fish, unfortunately, our meal took a little longer to get sorted and so it was too dark when we were ready to fish.
WE started on the tributary of the Kupa the next morning – the delightful Kupice.  This river screamed fish to us.  Malden took off downstream with Marc, whilst Paul and I set off upstream.  Wading was tricky enough and Paul struggled so told me to carry on.  I fished loads of lovely pools and likely spots without an offer and it was only on reaching the first sweeping bend that I spotted a pair of anglers about two hundred metres upstream….this explained why I had had no action, the fact that the pools had already been fished!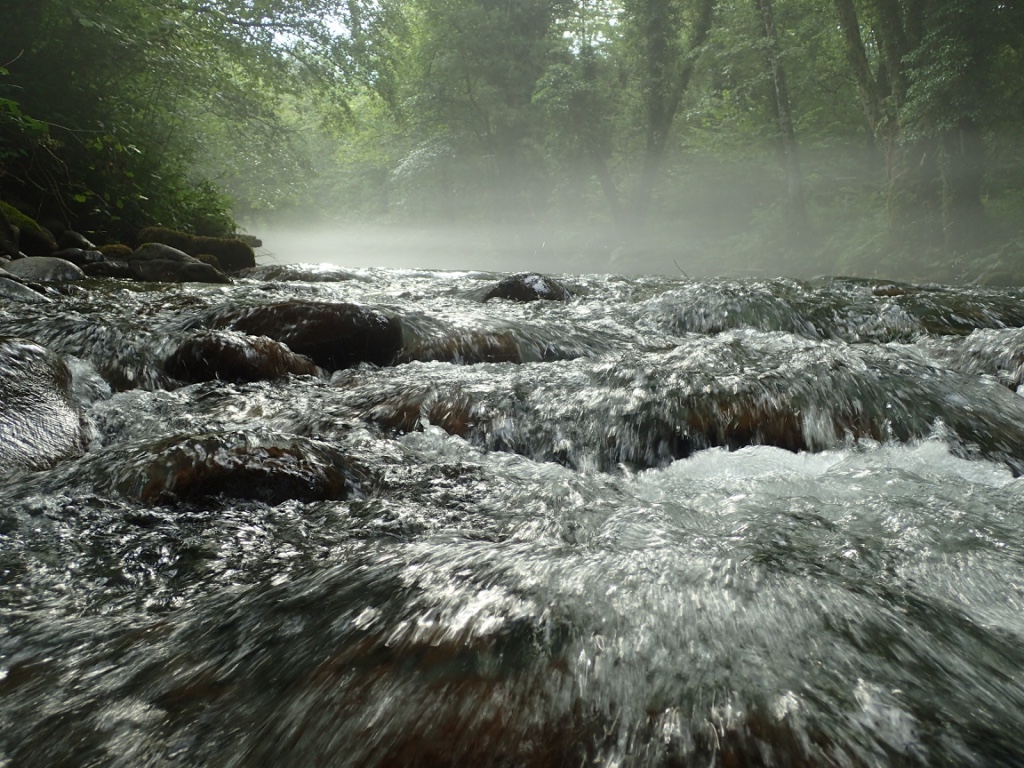 The clear fast water of the Kupice
I headed back to Paul and we crossed to the even smaller stream to the north – not sure if it was named.  We gave this one about an hour but again saw nothing.  I dropped back to the mill pool that forms at the junction.  Here there were some impressive currents and likely looking areas for holding fish, and sure enough I spotted a huge grayling.  It had a brief glance at the dry I had on, but no movement second or third casts.  So I changed the fly for a small pheasant tail nymph with tungsten bead.  Second cast was on the fish and it moved to intercept it and I lifted to feel resistance.  The large grayling headed into the current and in the clear water I could see that my "grayling" had changed into a very large chub!  In the shadowy water I had presumed the fish to be a grayling!  However I was not unhappy at landing a four-pound plus chub as my first fish in Croatia.
Soon after this we met up with Marc and Mladen who had worked their way back to the cars having caught two very small grayling and seen little else.  Mladen suggested a drive further upstream and so Paul and I followed.  When we caught up with the pair, they told us that the spot even further upstream that Mladen wanted to fish was already being fished by up to six anglers.  We hoped that this was not going to be the pattern for the few days there.  Again Paul and I went up, whilst Marc and Mladen went down.  This stretch was a stunning piece of water and soon I was into my first grayling – a fish of around a pound.  I dropped back and let Paul have the pool and he soon caught a similar sized fish.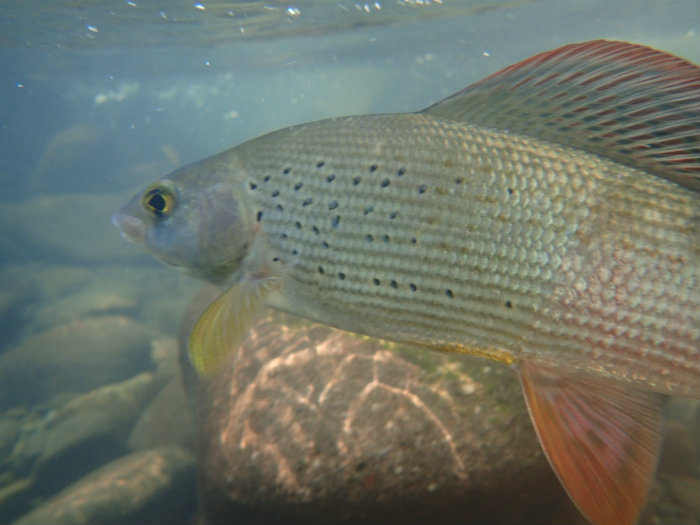 Beautiful fish in beautiful surroundings
Paul and I took turns hopping past each other and managed to catch a couple more smaller grayling, but now it was time to go to Ryan's house for a barbecue.  This was a splendid occasions at which we were treated royally.  WE were served a variety of Croatian sausages, meats and potatoes accompanied by some fantastic salads, and great wines.  After the early start, the travelling the day before, and the wine, combined with such warm (over thirty centigrade) weather a relaxing end to the day was called on, but instead we headed back to the river – this time near to Ryan's house it was the Kupa.
I went downstream and fished up some rapids, Mladen took Marc back to the morning's venue to try for a Huchen, and Paul took a siesta!  I caught a couple of small, beautifully marked brown trout, several grayling and had a great short session.  Marc struggled as to fish for huchen a  heavy outfit was used but they saw nothing anyway.
Next day we started even earlier as we wanted to be back to our accommodation for breakfast and the third Lions test match from New Zealand.   We managed a few grayling and small trout, and were ready for breakfast and rugby by nine o'clock.  The game ended in a draw, we then became tourists and went to the coast.  Driving to the coast we stopped a few times to take photographs and enjoy various views.  We had a decent and reasonably priced meal right by the sea then went touring a few more harbours before heading back for a bit more fishing. In the evening we fished the main river at the confluence of the Kupice.  Marc had a splendid time catching several grayling, a couple of trout and a few small chub, all on dry fly.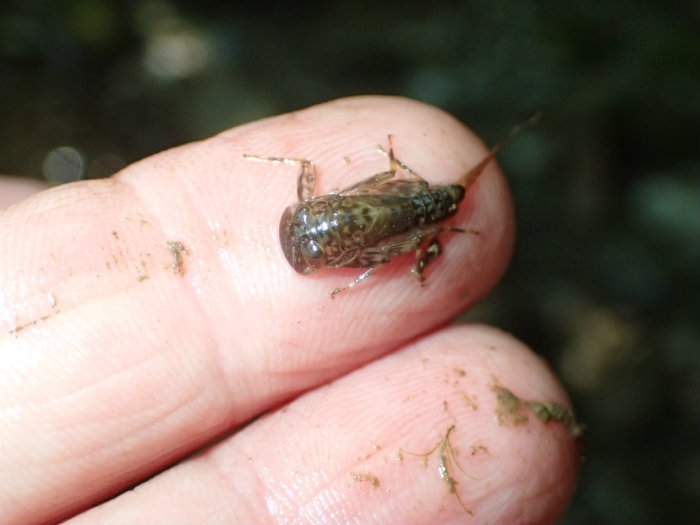 One of the large nymphs found under the stones in rivers of Croatia
Sunday was our "special" day fishing in the National Park.  The fee here was a bit more than the usual cost, though still cheap in the scheme of things.  I think a normal ticket on the rivers was around 23 euros, but it went up to 28 or 30 for the National Park.  The river in the park was spectacular and we all caught some splendid grayling.  Most fish were caught on dry fly, but a few were taken on nymphs whenever the fish spotted wouldn't come up on top.  There were several pools that reminded me of fishing in the tropics for bonefish.  Shallow, as clear as gin and big grayling sitting on station so that you could target one fish at a time.  We had a long session of fishing before heading up to one of the local houses which doubles as a restaurant where we had a feast!  The owner brought us a fabulous tomato salad, and then a huge plate of pork steaks and chips.  All the time there was ice-cold beer available!  We were joined by a couple of Italian anglers who had just completed their second day of fishing and were going to eat and then drive back to Italy.  They told us that on the previous day they had caught about fifty grayling each – up to three pounds plus!  Today had been poor and they had "only"  caught about twenty each!  Isn't it strange how expectations differ between people.  As a group I think we had maybe twenty between us at the lunch break (in truth it was about three o'clock in the afternoon) and we were absolutely delighted!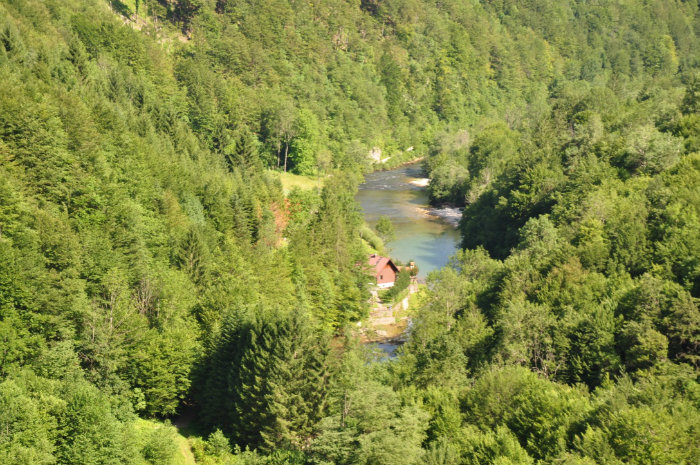 Our first view of the Kupa in the National Park – close to its source.
We fished on until around eight and headed back.  We maybe had another twenty in the afternoon, but probably didn't!  But, we all agreed that it was a fantastic place and we would be more than happy to return and give it another go.
Next morning we fished a few hours as it was back to the airport.  I went well downstream on the Kupa and fished a really fast run with a dry sedge of Mladen's tying.  I had about seven or eight fish from a ridiculously fast riffle, but then failed hopelessly on the long smooth flat water on my way back to meet the others.  A few grayling were taken by all before we set off for showers and the drive back to Zagreb.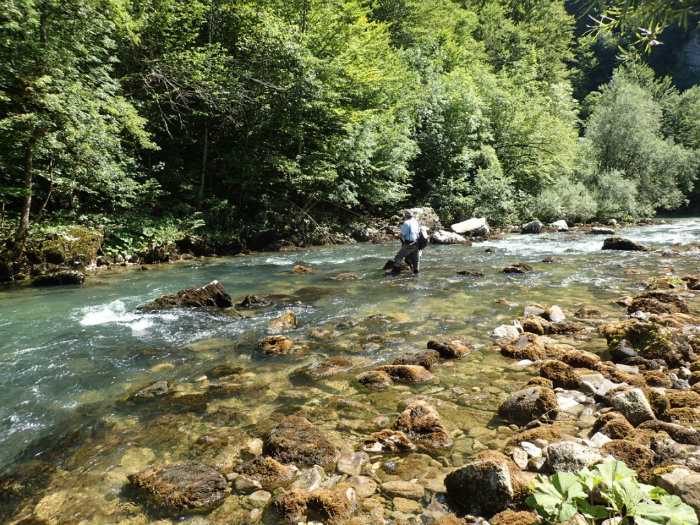 Mladen guiding Marc in the National Park.
I can highly recommend the area we stayed at and with the amount of fishing available it would be difficult to get to it all on a five day trip.  We really only had three days fishing, but made the most of it.
Most of our fish were taken on dries.  My best was a size eighteen or twenty pardon de Meana.  A simple imitation of an olive.  The others stuck with the sedge that Mladen suggested.  Small pheasant tail nymphs were also useful.  We fished light leaders – I was on 0.12mm whilst Mark stuck with 0.14mm.  4-weight rods were used by Paul and Marc but I stuck to my one-weight.